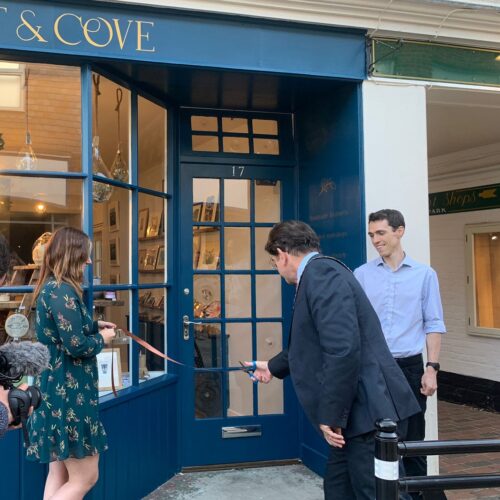 About us
Forest and Cove is Rebecca's idea of the perfect creative hub. Set in the historic market town of Romsey, Forest & Cove is a place that feels warm and welcoming to all, whether you're looking for a beautifully handcrafted gift or to fill a little creative hole in your life.
We stock a range of unique handcrafted products from a select few British designer/makers. Alongside this we host a wide variety of creative classes and courses by both resident and guest artists.
Who works at Forest & Cove?
Rebecca
Rebecca Jackson is the owner and creative mind behind Forest & Cove. Rebecca has successfully run her own jewellery shop from Salisbury for the past 6 years where alongside making and selling, Rebecca has taught jewellery making experience days and long term courses.

Rebecca designs and makes several of her own collections, creates bespoke commissions and has a real passion for remodelling, she specialises in creating beautiful contemporary items from old sentimental jewellery items. Using as much of the original item as possible from the metal to the gemstones.
Claire
Claire is the owner of Northsky jewellery and will be a resident artist at Forest & Cove. Claire has a real passion for teaching. She specialises in all things silver clay from making a selection of beautifully crafted jewellery to teaching silver clay experience days and courses. Claire has been a student of Rebecca's for several years and now offers some traditional silver jewellery making classes.
Simon
Simon is the unsung hero of the business and Rebecca's husband. He helps with everything from our accounts and stock systems to building our workbenches, fitting our tools and so much more. You'll likely see him helping out in the shop during the school holidays or on the weekends. This isn't his full-time job but we couldn't do without him.
Lisa
Lisa is the newest member of the team. You'll find Lisa in the shop ready to help you with all your questions and wrap up your items beautifully for you. She also heads up our social media for us! Lisa is also one of our fabulous stockists; she is the creator behind Cherrytree candle company, which creates beautiful scented Vegetable wax candles that we just can't get enough of!
Henry & Otis
Now if you've been into the store you'll likely have met Henry & Otis already! They are Rebecca's dogs and are often poking their heads over the gate in the back room looking for strokes from customers.